You have reserved the reception venue, decided on the theme decoration, got the dresses & gowns, entertainment, and dining all catered – but what's next? There will be a huge list of other must-haves on the wedding list but you can't deny that hiring a stylish luxury wedding car is ranked at the top of the pile. Driving to the church and reception in the comfort of a luxury vehicle is a show of wealth and class. Ditch the old school style of borrowing from friends or family and get that dream car for the most special of days
Wedding Car Hire Uganda presents to you 4 reasons why you should hire a luxury wedding car for your special day in Uganda this 2022 season.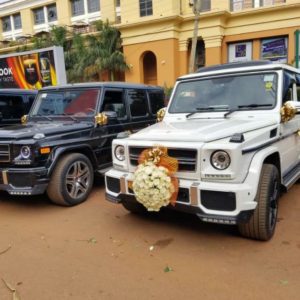 Shows Style – A wedding is a very special occasion that requires alot of class and style. Rather than arriving to the party with your own car or borrowed car from family, relatives or friends, it's worth booking a stylish luxury car from a trusted and reliable rental / events management agency.  We at  Wedding car hire Uganda offer a wide range of wedding cars for hire well decorated simply oozing style including the infamous stretch limousines, Mercedes Benz, convertibles, Mercedes Benz to mention but a few.
Feel Special– If you have ever dreamed of being driven like a celebrity, then a luxury wedding car is guaranteed to make that dream come true. On-lookers along the road and invited guests at the party will be blown away. This is the day you show off what you got, so do it in style.
Private couple time – Weddings are some of the busiest occasions and couples will barely get to see or speak to each other as they will be busy greeting family members or busy keeping attention on the proceedings of the party to even talk. The private road trip from the church to reception  offers the couple chance to talk and prepare for the long event ahead.
Photo Opportunities – Hiring a wedding car in Uganda also presents opportunities for spectacular photos. Luxury cars act as good backgrounds for bridal photography.  Whether you decide to lean on the car or  take pictures inside, you will be amused by how beautiful and stylish you look posing with a luxury car on your wedding.
To hire a wedding car in Uganda or any bridal service this 2022, simply send us an email to info@weddingcarhireuganda.com or call us on +256-758540071 to speak with our booking team.
Please follow and like us: