Oftentimes, when one mentions the name Tristar Africa Skimmer Safaris, many are quick to think about car hires, and tourism (tour & travel) within East Africa, particularly in Uganda, Rwanda, and in Kenya. But, to the contrary, although the two are the core services that we offer, Tristar Africa Skimmer Safaris also provides a wide range of other services, especially in the events industry and more importantly in weddings; be it traditional weddings or white weddings. We not only offer wedding cars for hire in Uganda but also go step further and cater for other related services as mentioned below.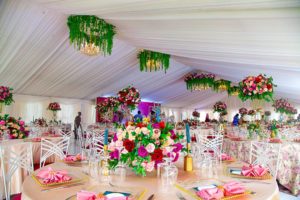 If you are having an event soon or planning to have one in the near future, it's highly advisable that you consider us for your tents and chairs, especially if you have chosen an outdoor venue for your function. When it comes to tents, just mention the size you need and you will have it because they are available in all types such as Alpine tents, Aladdin tents, Mega tents, and theatre-style tents. And as for the chair, just name the kind you want; is it plastic chairs, cushion chairs or the classic Chiavari chairs.
If you're a close follower of Wedding Car Hire Uganda on it social media platforms or a frequent visitor of our blog, you have probably seen this before that we do offer ushering services for all sorts of events. Any function for which you deem it necessary to have ushers. Our ushers aren't just professional ushers, they are also beautiful and handsome respectively with a plethora of experience.
Once you have zeroed down to a venue for your function, be it indoor or outdoor, the next thing on your mind should or will always be the decorations. How you want it turned into everything you envisioned your wedding day to be. So for décor services, don't hesitate to think of Tristar Africa Skimmer Safaris.
For any function, especially wedding here in the Pearl of Africa, if you want the guests to give it all the credit it deserves, then serve people good food. No matter how heavenly your event may be, if you serve your guest's bad food, it's the only memory that will stick on their minds. So to avoid all that, just have us on speed dial as your catering service providers.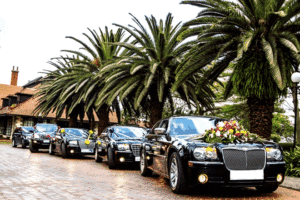 Transportation is one of the many important aspects of a wedding, so you must get it right. But what's the theme of your wedding!!! Is it a rustic and vintage wedding, a simple wedding or a classic modern-day thing of glamour and splendor? Whatever category your wedding falls in, be sure you will get the perfect car for it. Be it the vintage cars from the 80sor 90s, the modern luxury style or anything else for that matter. Surprise!! Surprise!!! We also have a chopper in case you want to fly on your wedding day. All you have to do is trust Tristar Africa Skimmer Safaris.
As you plan for your big day, don't forget your honeymoon. It's 'almost' as important as the wedding itself. Whether you plan to have a late honeymoon in Uganda or immediately after the wedding, it's just important that you have one. Whether you wish to have it within the country or abroad, be sure we will help you with all its planning. From booking travel tickets to booking your hotel. Just trust Tristar.
Now the advantage of having a single service provider like Wedding Car Hire Uganda proving you with multiple services is that you're to a large extent assured of big discounts. Trust me, you will need the discount to ease the pressure on your budget for other cost items. Secondly, it will make coordination for your wedding supervisor very easy.
To inquire about any of the above Uganda wedding services in 2022, simply send us an email to info@weddingcarhireuganda.com or call us on +256-758540071 / +256-785231603 to talk to our reservations team leader today.
Please follow and like us: