Almost all if not all traditional ceremonies in Africa include cultural dance and singing performances, a trend that has long set the standard for  African cultural events for centuries. Blessed with over 20 ethnic tribes, Uganda comprises of a variety of popular local folk songs and dance styles you can only get a chance of watching and listening to when on a wedding party, introduction ceremonies, initiation or anniversaries.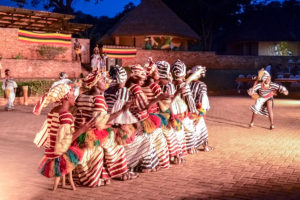 You can hire a traditional dance group in Uganda and light up the event with local entertainment to keep the old and cultural enthusiasts on their toes. We at Tristar Africa Skimmer Safaris have been in contact with some of the most popular dance groups booking their services for our clients.
Below are the top 10 traditional dance groups in Uganda who wont disappoint when invited to present at a wedding or introduction.
Ndere Dance Troupe
Africa Cultual Troupe
Buganda Music Esemble
Crane Performers
Engabu Za Tooro
Dynamic Adungu
Kitagata Cultural troupe
Kitara Cultural Performers
Nyonyozi Cultural troupe
Mzizi cultural troupe
If you plan on having a wedding in Uganda  this season and still haven't yet got traditional dance performers for the event, we at Wedding Car Hire Uganda are ready to book for you any performer of your choice. Simply send us an email to info@weddingcarhireuganda.com or  Call us on +256-758540071 / +256-785231603 and let us make your dream a reality.
Please follow and like us: