Hiring a luxury car for a wedding in Uganda has not always been the niche for most couples in the 90's and early 2000 as these stylish classy cars were either too expensive to afford or hard to find leading to locals thinking they were only meant for celebrities and other rich famous people.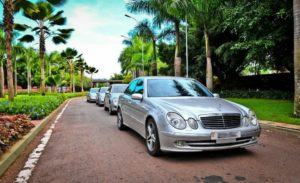 There are many questions that arise when our couples and wedding planners start searching for wedding car hire in Uganda and we at Tristar Africa Skimmer Safaris are proud to present to you some of the frequently asked wedding car hire questions to help you in your search for that dream car to spice up your special day.
Question 1– What destinations do you cover in Uganda?
Answer- We offer luxury cars for weddings in Kampala city , Entebbe, Jinja town, Masaka, Gulu, Mbarara among other destinations in Uganda but prices vary for each destination.
Question 2 – When is the right booking time for wedding cars ?
Answer–  It's always very crucial to book a service at-least a month or more in advance to avoid missing out on the car of your choice due to nonavailability at the last moment or getting it at a higher price
Question 3– Do you own all the luxury cars listed on the website ?
Answer– Yes we own most of the wedding cars listed on our website – (www.weddingcarhireuganda.com) but some are outsourced from out trusted and reliable car suppliers.  Whether you want to rent a limousine in Uganda or prefer a flashy sport car, classic vintage or a VIP van, we are guaranteed to get you any car of your choice at the right price
Question 4 – Can i drive my self or do you only rent out cars with chauffeur ?
Answer– Most of the rental luxury cars in Uganda are driven by professional chauffeurs and the wedding prices include costing for driver and fuel but some cars like the Mercedes convertible and Rolls Royce can accommodate only two passengers hence fitting for self drive
Question 5 – What happens when the car breaks down ?
Answer– Tristar Africa Skimmer Safaris has been offering wedding car hire services for 7 years and can promise you we will get you a bridal car with no mechanical condition since we take your comfort and safety our top priority. In the unlikely event of a breakdown, we will send over a replacement rental car as soon as possible so the convoy can continue with their road trip to church or reception.
Question 6 – How many hours can i have the luxury car for the day ?
Answer – All our wedding rental cars are available from 7am to 8pm in the evening and in case you would love to extend the hours, it will cost you an extra fee depending on the type of car you rented.
Question 7 – What other services do you offer apart from wedding car hire?
Answer –  We offer a wide variety of other wedding services including hiring out ushers, wedding decorators, bridal gown & suit rentals, booking traditional & world music artists, chauffeurs, wedding planners as well renting out party tents for all types of events.
Question 8– Are your cars available for inspection?
Answer– Yes all our cars are available for inspection any day of the week, once you confirm which car you want , we will direct you to the parking where you can inspect the car inside out.
Question 9– Who does the decorating of the wedding cars?
Answer- We don't include the decoration rates on the final price so you will have to use you party decorators , the car will be available for decorating in the morning.
Question 10 – Do you have any other cars available for other special occasions ?
Answer- Yes we do have other luxury cars fit for special occasions like birthday parties, anniversaries, shows, video shoots to mention but a few and they are available fore hire with driver or without one.
There are plenty of other questions our clients ask about wedding car hire in Uganda but the above ten are the most common ones. To book or inquire about car hire rates, simply send us an email to info@weddingcarhireuganda.com or call us on +256-758540071 to speak with us.
Please follow and like us: