The Mazda RX-8 is a beautiful fancy sports car manufactured by Mazada, another popular Japanese car maker. Powered by a rotary wankle engine, the Mazda first appeared in 2001 during the North American International Auto show but production stopped in 2012 due to emission standards. Arriving at a wedding in Mazda shows class, style and wealth, your entourage is guaranteed to get every one off their feet. The Mazda RX-8 can also be booked for film & music video shoots in Kampala as well as special occasions that require special car like the Mazda. The 2-door Mazda RX-8 can seat 4 people with a functioning air conditioner and extremely good-looking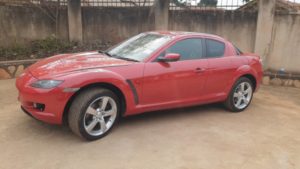 shiny exterior which features a long stylish engine cabin.
You can hire a Mazda RX-8 in Uganda today for wedding or video shoot today by sending an email to info@weddingcarhireuganda.com or call us on +256-758540071 to speak with us now.